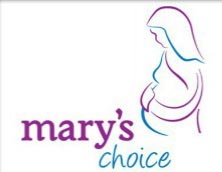 Mary's Choice is a nonprofit resource center serving women and men with free help during pregnancy and early childhood.
They provide support and assistance to women experiencing unexpected pregnancy with compassion, support and accurate information.
Their center provides pregnancy tests, limited ultrasounds, baby supplies, infant to adult clothing, and support and referral services free to anyone in need regardless of marital status, race, religion or background.
Their mission is to give men and women the knowledge, support and resources to choose life for their unborn child.
Abortions are being done in Sioux City, Iowa next to Mary's Choice.
You are invited to go and pray for those in need.  Your presence may be the hope a desperate mother may be looking for upon her arrival.
Mass is held at 8:15 a.m. in the chapel at Mary's Choice on scheduled abortion days.  Prayer warriors are asked to come anytime during the hours of 8:00 a.m. – 11:30 a.m.
May the Love of Christ encourage your prayerful support for those in such desperate situations that they come to believe they have no choice but to have an abortion.
For more information or to carpool call Nancy Stech at 402.748.3109 or 402.649.2369.

Print