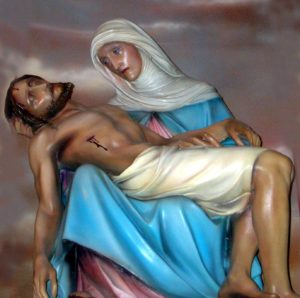 St. Mary's Christian Mothers would love to have you join our organization.  Here is a quote that kind of sums up what we are about.  "Mothers rule the world. They guide the destinies of homes; that is why God is relying on mothers to keep Christ in the world by keeping Him in their hearts and homes."
Under the special patronage of Mary, the "Mother of Sorrows", Christian Mothers are encouraged joyously to undertake the important task of training and sanctifying the young souls entrusted to their care. They are instructed with ways to teach one another by word and deed, to support one another by prayer and in this way become the mainstay of the spiritual life within their own family, and a fruitful source of blessing to the community in which they live.
Christian Mothers learn to unite their own hearts to Christ so that they can help to draw their families closer to the Lord. In that way they become the leaven which makes their own parish and community more alive with the presence of the risen Lord.
If you would like to become a member of St. Mary's Christian Mothers contact Mary Beth Stech at her home phone at 402-748-3424, text her at 402-649-5138 or email at marybethstech@gmail.com.  This is open to any woman wanting to give special graces to her family.  Whether it be her children, husband, parents, nieces, nephews, etc.
We gather at St. Mary of the Seven Dolors after Mass on the third Sunday of each month to say prayers for our families.  You will receive a pamphlet and a book of prayers upon joining.  Dues are $5.00 a year.  Christian Mother Medals are available for an extra $12.00.  With the membership fees we have a Mass said for our Mother that has died, give donations to special groups and use to purchase new pamphlets and prayer books to be given to new members.  When a Mother of ours is called to rest you are welcome to gather as a group at her funeral.  There may be a special rosary said for her the day/night before if the family so wishes.  There are some extra Christian Mother Medals in the cry room at St. Mary's for members to wear during the funeral if you do not have your own.  These should be put back in the cry room when the Mass is over.
Please consider becoming a St. Mary's Christian Mother for the well-being of our children and every child of God!

Print