Meet our Preschool and Kindergarten Teacher
I am Rebecca Geneski, the teacher of St. Mary's Preschool and Kindergarten. When I was growing up I lived in Pierce, Emerson, and finally moved to Osmond my last years of high school. I graduated from Osmond Community High School in 2005. I knew right away I wanted to attend a college that allowed me to learn more about my faith, which led me to look at Mount Marty College in Yankton, South Dakota. I graduated from Mount Marty College in 2009 with a degree in Elementary Education. Then I knew right away I wanted to teach at a small-town, Catholic school, which led me to my first teaching job at St. Rose School in Crofton, Nebraska. At St. Rose School, my love for teaching preschool began to grow and grow. I taught there for five wonderful years, yet after moving back to Osmond I became interested in St. Mary's School. In 2014, I began my next teaching journey at the amazing St. Mary's School here in Osmond! My encouraging husband is Jake Geneski, and he works for Stech Construction. We have four beautiful children together. The older ones have the enjoyment of attending St. Mary's School, with Noah in 4th Grade, Sunny in Kindergarten, and Gwenny in Preschool. A new addition to our family this summer is our daughter Heide Jey. It is such a blessing to have our family involved at our Catholic School. Teaching the students here is a true joy and all the parents and staff are very supportive! I feel very blessed that God has led me to this path!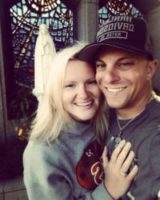 Meet our 1st and 2nd Grade Teacher
Kelsey Stech was born in Osmond, NE.  Her parents are Ron and Terri.  She has 3 brothers and 1 sister.  She graduated from the University of Nebraska-Lincoln with a degree of Inclusive Early Childhood Education.  She is in her 5th year at St. Mary's.  Miss Stech is excited for the school year to get underway.  She enjoys going to the gym and hanging out with her nieces and nephews, especially preparing for a new niece or nephew.  Miss Stech will be getting married in June of 2018 to Jordan Hanssen of South Dakota and has been busy planning.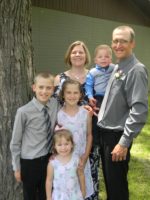 Meet our Head Teacher and 3rd and 4th Grade Teacher
Mrs. Guenther-I grew up in the small Defiance, Iowa. My parents are Ed and Lisa Schmitz and the late Sheila Schmitz. I have one brother, Jason. After graduating from Harlan Community High School, I moved to Norfolk and attended Northeast Community College before transferring to Wayne State where I earned by degree in education. I substitute taught for a year before beginning my teaching career. It feels like I just started teaching at St. Mary's, but this is my thirteenth year! Currently I am working toward earning my masters degree in curriculum and assessment as a reading specialist from Wayne State College. My husband, Tom, and I moved to Randolph shortly after we were married in 2004. Tom works at Colonial Manor in Randolph where he is the head of maintenance. We have four children: Justin, Jenna, Janelle and Jared. There are lots of things I enjoy doing in my free time, but my favorite is scrapbooking.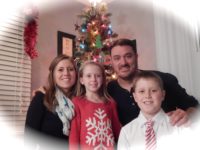 Meet our 5th and 6th Grade Teacher
Hello! My name is Mrs. Keri Severson and I am very excited for my third year at St. Mary's School.  I am ready for a fun and exciting year.
Here are some fun facts about me:
—–I was born in Bassett, Nebraska and was raised on a ranch between Bassett and Newport along Highway 20. I grew up with my parents and three sisters, Tara, Micki and Brooke.
—–I graduated from the University of Nebraska at Kearney with a bachelor's degree in Elementary Education, with an endorsement in Physical Education.
—–I have been married to my wonderful husband, Matt for fourteen years and we have two awesome kids. My husband works at Northeast Nebraska Tire and Trailer and also works part time at his machine shop that we own. My son, Owen is 12 and is in 6th grade and my daughter Ava is 9 and in 3rd grade. We also have a dog and cat.
—–When I am not teaching, I love to read, bake, do yard work and house projects, fish, help on my parents' ranch, play and watch sports, and hang out with my family and friends.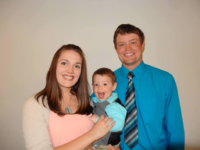 Meet our 7th and 8th Grade Teacher
Danielle Lauriana Stech was born in Osmond, NE to Clark and Mary Vinson. She has three brothers, one sister, and many nieces and nephews. She attended St. Mary's Catholic School from first to eighth grade, and she has always wanted to teach there. After graduating from Osmond Public, Danielle was an active student at Wayne State College. Danielle married her high school sweetheart, Andrew Stech, three years ago and they have a son, Liam Andrew and a daughter Serena RoseMary. This is her third year teaching at St. Mary's and she is looking forward to what this year will bring. Mrs. Stech loves hanging out with her family, eating anything with peanut butter, reading fantasy books, and watching medical television shows on Netflix.
Meet our Secretary
My name is Camille Conley Gerkins (or Meal to the little ones). I have had the wonderful opportunity to work for St. Mary's School since it opened its new doors in 2002!
I grew up in Lincoln Nebraska the oldest of 6 children. I went to St. Teresa's grade school and graduated from Pius X High School. I attended Kearney State College for one year.
My husband Roy and I live near Randolph and raise cattle and sheep.
I have one daughter, Jennifer, and 4 bright and beautiful grandchildren who live in Randolph.
Besides spending time with the grandkids I enjoy riding horses, taking care of our livestock and gardening.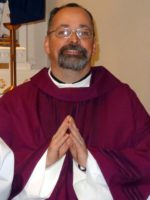 Meet our Priest
Father Tim Forgét is from a large family of twelve children. He grew up in Wisconsin and New York, then graduated from the University of Nebraska Omaha. He attended Pontifical College Josephinum in Ohio and Kendrick Seminary in St. Louis and was ordained in 2002. He has served at St. Leo in Omaha, SS Cyril and Methodius, Clarkson and St. Bonaventure in Columbus before coming to St. Mary's in Osmond and St. Jane's in Randolph.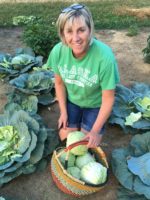 Meet our Cook
"Hi: My name is Mary Hoesing. I grew up on a farm near St. James, the youngest of 9 children. I attended Bow Valley , St. Helena and then Cedar Catholic Schools in Hartington. After high school, I went off to Sioux Falls and got a cosmetology degree. I married Jeff Hoesing and moved to Clearwater for 23 years, then to Mullen for 7 years and then back to our familiar area of Northeast NE, near Randolph. Jeff and I have 5 awesome children; 3 boys and 2 girls and 3 grandchildren. I love to cook, garden, read, woodwork with my husband and spend anytime I can get with my children and grandchildren."

Meet our Cleaning Lady
Jackie Haselhorst

Print